QxOrm (the engine) + QxEntityEditor (the graphic editor) = the best solution to manage your persistent data layer in C++/Qt !




---


QxOrm library is an Object Relational Mapping (ORM) database library for C++/Qt developers. With a simple C++ setting function per class (like Hibernate XML mapping file in Java), you have access to the following features :


Persistence : support most common databases like SQLite, MySQL, PostgreSQL, Oracle, MS SQL Server, MongoDB (with 1-1, 1-n, n-1 and n-n relationships) ;
Serialization : JSON, binary and XML format ;
Reflection (or introspection) : access dynamically to classes definitions, retrieve properties and call classes methods ;
HTTP web server : standalone multi-threaded HTTP 1.1 web server (support SSL/TLS, persistent connections, cookies, sessions, chunked responses, URL dispatcher/routing) ;
JSON API : interoperability with other technology than C++/Qt (REST web services, QML applications, scripting language).

---


QxOrm library has been accepted into the Qt Ambassador Program

QxEntityEditor is a graphic editor for QxOrm library : QxEntityEditor provides a graphic way to manage the data model.
QxEntityEditor is multi-platform (available for Windows, Linux and Mac OS X) and generates native code for all environments : desktop (Windows, Linux, Mac OS X), embedded and mobile (Android, iOS, Windows Phone, Raspberry Pi, etc.).
A user manual (documentation) for QxEntityEditor application is available.

QxEntityEditor is based on plugins and provides many ways to import/export your data model :
generate C++ persistent classes automatically (registered in QxOrm context) ;
generate DDL SQL script automatically (database schema) for SQLite, MySQL, PostgreSQL, Oracle and MS SQL Server ;
manage schema evolution for each project version (ALTER TABLE, ADD COLUMN, DROP INDEX, etc.) ;
transfer your data model over network and create quickly client/server applications, using QxService module ;
import existing database structure (using ODBC connection or native drivers) for SQLite, MySQL, PostgreSQL, Oracle and MS SQL Server databases ;
because each project is different, QxEntityEditor provides several ways to customize generated files (especially a javascript engine and an integrated debugger).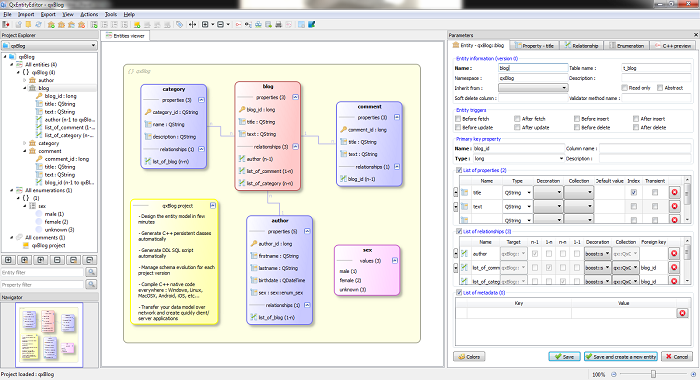 ---

QxOrm library is designed to make easier C++ development and provides many functionalities.
Here is a list of advantages of QxOrm library :
non intrusive : the C++ setting function per class doesn't modify class definition, QxOrm can be used in existing projects ;
no XML mapping file ;
classes doesn't need to inherit from a 'super object' ;
template meta-programming : no macro hack ;
works with Visual C++ on Windows, GCC on Linux, Clang on Mac OS X, and MinGW on Windows (other platforms will be tested soon : smartphones, etc...) ;
only one file <QxOrm.h> to include in precompiled-header (precompiled-header file is recommended to reduce compilation times).

QxOrm is based on Qt framework (from version 4.5.0) :
Qt : cross-platform application development framework : GUI (QtGui), network (QtNetwork), XML (QtXml), database (QtSql)...
Qt provides excellent support and documentation. Using Qt, you can write simple and powerful C++ code.
Qt is produced by Digia's Qt Development Frameworks division and is available under LGPL license.
QxOrm is compatible with many Qt's objects : QObject, QString, QDate, QTime, QDateTime, QList, QHash, QSharedPointer, QScopedPointer...
It is recommended to install the latest version of Qt available at the following address : http://www.qt.io/
QxOrm provides the following modules :
You can download the current version of QxOrm library and QxEntityEditor application here.
A manual (user guide) to learn how to work with QxOrm library is available here.
A quick sample showing basic functionalities of QxOrm is available here.
If you have any questions about QxOrm library or QxEntityEditor application, a forum is available here.